Dr. Bruce Heller is the author of The Prodigal Executive, How to Coach Executives Too Painful to Keep, Too Valuable to Fire (AuthorHouse, 2009), which includes a forward by Dr. Lois Frankel, best-selling author of "Nice Girls Don't Get the Corner Office." The Prodigal Executive is available online to order at: www.Amazon.com.
Dr. Heller is a contributing writer to the best-selling book: Nice Girls Don't Get the Corner Office (Hachette Book Group, 2010) by Lois Frankel, Ph.D. and also a contributing writer for the book: Cracking the Business Code – Action Steps for Keeping Ahead in a Constantly Changing Environment (Lighthouse Consulting Services, LLC, 2014) by Dana Borowka.
Dr. Bruce Heller's has authored and published a number of well – received articles on leadership and executive coaching in Training Magazine and by Arthur Anderson's internal publication.
Monthly Newsletter – Leading Ideas
Bruce Heller, Ph.D. publishes a monthly newsletter, "Leading Ideas," as well as a monthly e-blast called "Leading Matters."
Sign up for the free e-blast with motivational quotes or for "Leading Ideas," which contains articles on becoming a more effective leader with valuable research on leadership development.
The Prodigal Executive
HOW TO COACH EXECUTIVES
Too Painful to Keep, Too Valuable to Fire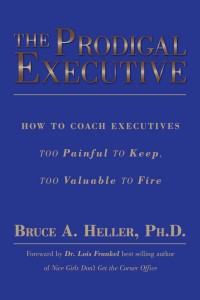 Some derailed executives create toxic workplaces that cause good employees to flee. Others cause customers to complain in ever increasing numbers. So why not just fire them? This book teaches the essentials of what managers and business leaders need to know about toxic bosses and other star performers too valuable to let go but too painful to keep on the payroll.
In this book you will learn:
How 8 out of 10 derailed executives can be saved.
Six myths that hold many companies back from coaching.
When to keep'em and when to fire'em.
How too give feedback to toxic bosses and derailed executives.
Three keys to an executive comeback.
How to help derailed executives out the door if they really need to go.